Most people come to Destin for the beautiful beaches but having a nice pool where you stay can also be a major bonus. I love unique swimming pools so I wrote this post to showcase the best pools in the Destin area, many with some very unique features!
Pools are a safer option for swimming on days when the Gulf of Mexico is too rough to safely enjoy it. It's also a nice alternative to the beach on hot days when you might prefer to relax in the shade of a palm tree or umbrella steps from your room.
Below are what I would consider to be the 5 best pools in the Destin area, in no particular order. For the purposes of this article I've included Okaloosa Island (the stretch of beach that connects Destin to Fort Walton Beach by two bridges) since most people consider it to be part of Destin and they have some of the best pools in our area.
1. Waterscape Beachfront Resort Pool and Lazy River
Waterscape Resort on Okaloosa Island has everything you could want in a pool and this is especially true if you are traveling with children. Waterscape has a beautifully landscaped, multi-level courtyard with 3 pools, a lazy river, 2 hot tubs, barbecue grills, and a zero-entry children's play area. From the pool area you can walk right out to the beach which is located just a short distance from everything at The Boardwalk, including the Okaloosa Island fishing pier.
If you are interested in staying at Waterscape, my friend Danica owns and manages several units there. She is an amazing person and truly cares about the experience of her guests. The website for her units where you can reserve and also look at more photos and even see a 3D tour of the property is RentWaterscape.com. Tell her I sent you and she will take good care of you!
2. Destin West Beach and Bay Resort Pool and Lazy River
Also located on Okaloosa Island, the Destin West Resort takes the next spot for the best pool in the Destin area. Destin West is split by Highway 98 with half the resort being on the bay and the other half on the beach.
On the bay side of the road, there is a zero-entry pool leading into a 700 foot tropically landscaped, lazy river. There are also 2 large hot tubs, a pool with a waterfall as well as charcoal grills, picnic tables, and plenty of grassy areas to play and relax. On the beach side of the resort, there is a 5000 square foot pool, a large hot tub, and a children's play and splash area.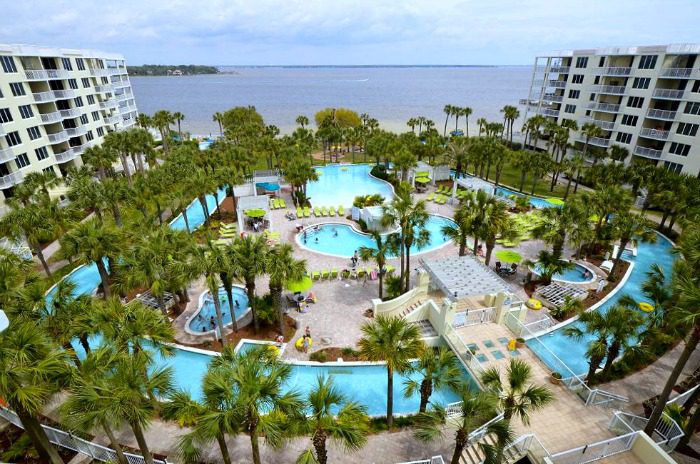 3. The Island Hotel Pool and Grotto Swim-Up Pool Bar
Okaloosa Island hotels and resorts clearly know what a pool should be because they hold yet another spot on my list with the Island hotel. The Island hotel gets this spot thanks to the unique features of their Polynesian style grotto pool. It has a cascading waterfall with the only swim-up bar in Northwest Florida which can be found hidden away in a cave under the rocks of the waterfall.
The other unique feature I love about the Island pool is that from some of the ground floor/pool view rooms you can jump right into the water from your private patio. Personally I would request one of those rooms. Most people would probably prefer a beach view, but the idea of jumping in the pool from my room patio and swimming under the bridge and through the waterfall into the cave to the swim-up grotto bar just sounds too fun to resist. The Island also has an additional heated pool and hot tub as well as a large kids splash and play area.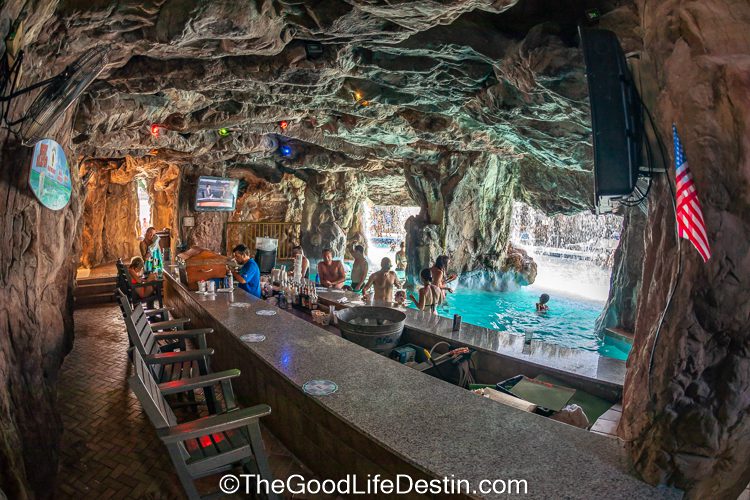 4. The Henderson Beach Resort and Spa Family and Adult Pool
The Henderson Beach Resort pool in Destin also makes the list. They have 2 outdoor pools to enjoy. One is a large family pool featuring a zero entry option, a lazy river, a bridge walkover, a splash pad area, and an open-air pool bar. The other pool is adults only, located near the main pool but in a separate enclosed area for the ultimate relaxation. The Henderson is not directly on the beach but it's an easy walk across a quiet dead end street to get to the private access located beside their sister property Henderson Park Inn Bed and Breakfast.
5. The Palms of Destin
The Palms Resort of Destin also deserves a mention. At 11,000 square feet, this zero-entry pool is one of the largest in Destin and features beautiful tropical landscaping and walking bridges over the water. The Destin Palms pool area also has a separate heated pool as well as a hot tub and a children's splash area.
The Palms Resort is located across highway 98 from the beach, but they do have a free shuttle to get there. Destin West Resort is ideally located in the heart of Destin only a few miles east of Harborwalk Village and a few miles west of Destin Commons (the main shopping area of Destin). This area is surrounded by restaurants and grocery stores so it will be a short drive to anything you need.
Silver Shells Beach Resort and Spa Gulf Front Pool
I'm including Silver Shells beach resort pool as a runner up since it's 7500 square foot lagoon style pool is so ideally situated just steps from the Gulf of Mexico. Silver Shells also has a kids pool, a whirlpool hot tub, a waterfall, as well as an indoor/outdoor lap pool in their spa area.
Between the pool and the beach is a beautifully landscaped public park area as well as a picture perfect tiki bar with cold drinks and beautiful beach views. Silver Shells is located right next to Henderson Beach State Park so it's a great area for walks on the beach and exploring the most undeveloped beaches in Destin.
Content retrieved from: https://thegoodlifedestin.com/the-5-best-resort-pools-in-destin-florida/.