As one of the most visited national parks in the country, most people have heard of Zion National Park. With once-in-a-lifetime hikes, it's obvious why so many people have Zion on their bucket list.
But as one of the most popular parks, Zion can be crowded and require extra planning. This guide walks you through everything you need to know before planning a trip to Zion National Park.
Why You Should Visit Zion National Park
Established in 1919, Zion National Park was the first of Utah's "Mighty 5" national parks. To this day, it's still the most popular park in Utah, with roughly 4.5 million visitors per year. There must be a reason everyone is visiting Zion? Well, it might have to do with the breathtaking canyon slowly carved out by the Virgin River. It might also have to do with the layered red rocks complemented by unique greenery. But it definitely has to do with the plethora of once-in-a-lifetime hikes.
Zion National Park has hikes for every skill level, from the paved Riverside Walk to the strenuous Observation Point. The two most famous hikes in the park are Angel's Landing and The Narrows. Angel's Landing navigates 1,000-foot drop-offs with chains bolted into the rock wall. The Narrows allows you to wade through the knee-deep Virgin River.
If you're not a hiker, Zion also has scenic drives, bicycling, canyoneering, and rock climbing. I spent two days in Zion National Park and am ready to go back for more.
When to Go to Zion National Park
At lower elevation than the other Utah national parks, Zion is milder year-round. This means milder winters with less snow and pleasant shoulder seasons. But don't get me wrong, Zion National Park can get hot, often over 100 degrees in the peak summer months.
The hot summer months are also peak visitation months. Peak season at Zion National Park is May through September. I recommend visiting in either April-May or September-October.
While most hikes are accessible year-round, hiking The Narrows requires some extra consideration. Water levels are too high to hike in the spring. Most years, The Narrows is open by late-May. By fall, the water temperatures begin to drop, making the hike unpleasant. Most visitors choose to hike The Narrows in the summer.
Zion National Park stays open year-round, allowing you to hike in the off-season. While the park doesn't see heavy snow, some trails are icy and require traction equipment to navigate.
Getting Around Zion
You'll need a vehicle to get to Zion, approximately 2.5 hours from Las Vegas airport and 4.5 from Salt Lake City airport. Many visitors choose to make a road trip by also visiting other nearby parks, like Bryce Canyon National Park.
While you need a car to get to Zion, in peak season you won't be able to drive your car through the park. In 2000, Zion National Park implemented a free shuttle system to reduce traffic congestion. The shuttle starts at the visitor center and runs to the end of Zion Canyon Scenic Drive at Temple of Sinawava. The shuttle stops at all major trailheads and runs every 10-15 minutes.
Because the park requires all visitors to take the shuttle, it can get crowded. On a summer afternoon, you can expect to wait an hour to catch the shuttle at the visitor center.
Planner's Tip: Get to the park early. Try to get one of the first few shuttles into the park (between 6 and 7 am). This will ensure you're spending your time hiking instead of waiting in line.
The park service also runs a shuttle from the visitor center through Springdale. With 9 stops, it's easy to commute from your accommodations to the visitor center. But one note: the Springdale shuttle doesn't start running until after 7 am. If you're trying to get into the park early, I recommend either driving and parking at the visitor center or walking (if you're close enough to do so).
What's friendly with Kids?
Zion is one of the friendliest parks for children, making it an ideal family destination. The park usually offers family programs from Memorial Day to Labor Day, and occasionally in March and April. Children ages 6 to 12 can also participate in Zion's Junior Ranger Program. Ranger-led activities may also be of interest to adults, too.
Some of the most kid-friendly hikes and trails in Zion include Pa'rus Trail, Lower Emerald Pools Trail, Weeping Rock Trail, and Riverside Walk Trail.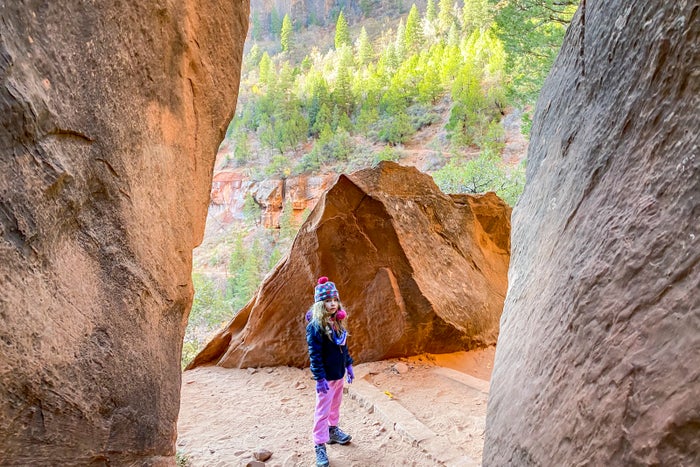 Speaking from experience, the Lower Emerald Pools Trail gains just enough elevation to feel like a real hike, but even if you take breaks and move at a 5-year-old's pace, it won't take more than 90-minutes in total to complete the hike and take some cool pictures in the process.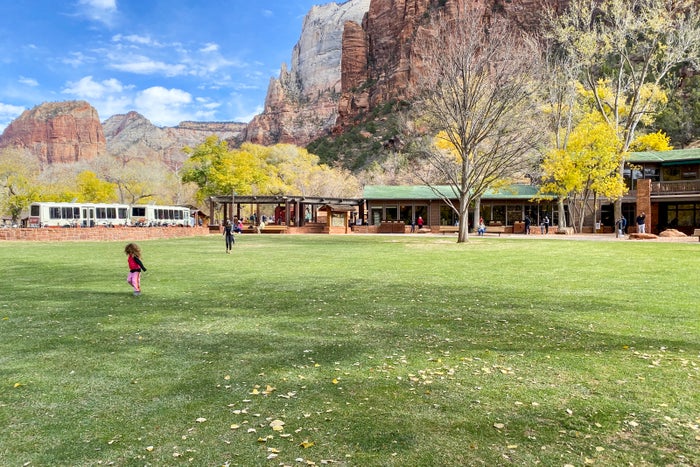 Source : https://www.wellplannedjourney.com/guide-to-zion-national-park/.