There's a lot to love about Mexico's Yucatán Peninsula. The Caribbean coast is famous for its postcard-perfect white, sandy beaches and warm, turquoise water, and the thick, tropical jungle in between. While some beach destinations offer nothing but, well, beach time, a trip here will promise you all that and so much more, if you're the kind of person that likes to have a little adventure along the way!
About two hours south of Cancun, Tulum trades big, all-inclusive resort ambiance for more boutique properties and bohemian design. The destination often stirs up mixed reviews from visitors, with some saying Tulum is the most beautiful, exotic, spiritual getaway there is (because of this, it's often compared to Bali). I've heard others refer to Tulum as overrated, because it's admittedly quite different from the rest of Mexico and its popularity has exploded significantly in the last decade, leading to growing pains and a whole slew of new opportunities and challenges.
I spent nearly a month with Tulum as a home base on a recent work-cation, and I can honestly say that I found truth in both opinions. Tulum is unlike anything I've ever experienced. From the beach, to the jungle, to the cenotes and Mayan ruins, I was completely captivated by this special place. But I wasn't blind to the traffic, the New York-priced restaurants (delicious as they were), and the Instagram-focused designs that, while extremely cool, sometimes seemed a little annoying.
All that said, I do think that there is a right way to do Tulum, and that its allure is undeniably cool and worth a visit. After spending a decent amount of time here, I compiled some of my favorite activities and experiences into an adventure- and relaxation-filled itinerary for your first visit.
Read on for my one-week (6-day) itinerary for enjoying Tulum and beyond!
DAY ONE: Get Acclimated By Enjoying Tulum Beach
Tulum is consistently ranked among the top beaches in Mexico, thanks to its white sand, palm tree-lined coast, and pastel, calm waters. Dedicate your first day in Tulum to getting acclimated and relaxing on the sand with a cocktail or cerveza in hand!
Tulum's Public Beaches (North Playa)
For a more chill atmosphere, you can bring your own towel and drinks and head to one of Tulum's true public-access beaches, which are equally beautiful:
Las Palmas
Playa Paraiso
Playa Ruinas
DAY TWO: Visit A Cenote And Explore Tulum Town
Now that you're acclimated with the beach, spend day two getting to know one of the other great ways to swim in Tulum – in a cenote!
Cenotes in Tulum
There are tons of super cool cenotes near Tulum and I encourage you to visit at least one or two while you're here! I personally visited Dos Ojos (my favorite), Zacil-Ha (great for swimming and lounging around in the sun), and Calavera (super fun sunken cenote that you can jump into!), but here are all of the cenotes near Tulum I've heard great things about:
Dos Ojos
Zacil-Ha
Calavera
Gran Cenote
Casa Cenote
Carwash
Casa Tortuga
Whichever cenote(s) you choose, plan to pay an entrance fee plus an additional fee for any camera or drones you plan on bringing in with you. In general, I found myself spending between 45 minutes to two hours at each cenote I visited, depending on how big it was.
Explore Tulum Town
Now that you've explored Tulum beach, you can head to Tulum town! The beach and town areas are distinctly different and about 20 – 45 minutes apart by car or bike, give or take. While the beach area is more glamorous, bohemian, and expensive, town is comparably more chill, local, and affordable. This is a great place to spend some time walking around, shopping, and grabbing a bite or a cocktail at a much more reasonable price than you'll find near the water.
While here, I really enjoyed eating at Bonrita, Burrito Amor, and Palma Central!
TIP: Many people will actually divide their hotel time between staying at the beach and staying in town in order to experience the best of both worlds and make their vacation a bit more affordable overall. I bounced back and forth while I was here, too. My time in Tulum looked like this:
4 nights in Aldea Zama (an up-and-coming neighborhood of apartments, condos, and vacation homes, situated in between the beach and town zones of Tulum)
1 week in Tulum's hotel zone, on the beach
1 week in Tulum town, where I found my money could stretch much further in terms of affording a nice room (I even got my own villa and plunge pool at a hotel in Tulum town for a couple nights!)
1 week exploring other parts of the Yucatán
DAY THREE: Go on a Sian Ka'an Biosphere Expedition
One of the most unique natural attractions in Tulum is the Sian Ka'an Biosphere, a 2,000+ square-mile reserve that protects a network of freshwater marshes, mangroves, lagoons, and barrier reef, serving as the home base for tons of magnificent wildlife.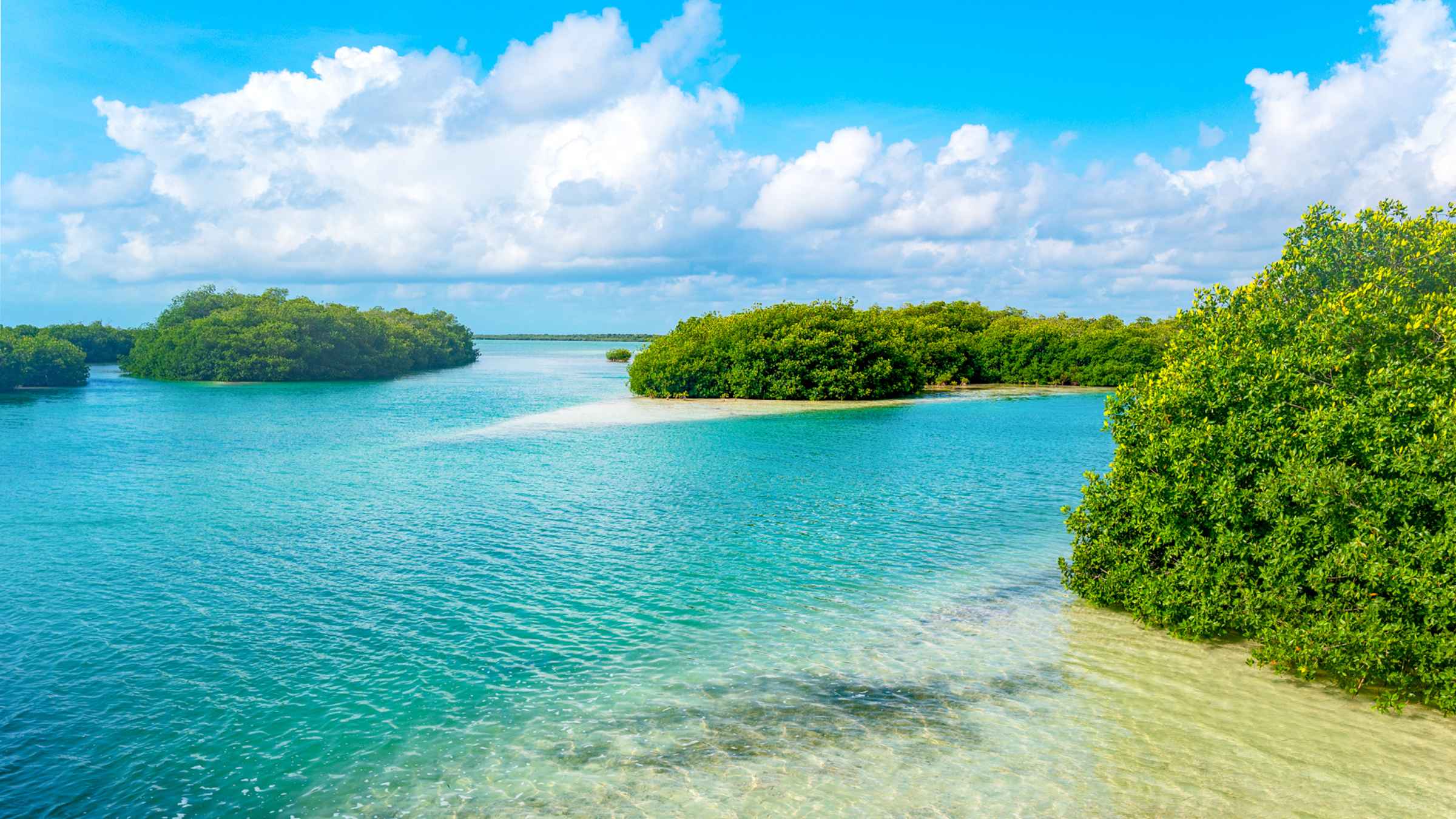 Because of how massive this reserve is, you'll need to choose between one of the two main areas that can be explored in Sian Ka'an: Punta Allen or Muyil. Regardless of which area you choose to explore, plan to dedicate an entire day to this experience!
Sian Ka'an via Punta Allen: This section of the reserve takes you through mangroves and open ocean, where your odds of having a wildlife encounter are high! It's common to spot manatees, crocodiles, dolphins, birds, turtles, and more. The only drawback to Punta Allen is that it's virtually impossible to do on your own, unless you plan on spending one or two nights in Punta Allen. The roads leading to Punta Allen are just too poorly maintained for anyone with a rental car to try and endure. If you want to do a day trip to Punta Allen, you'll need to book a tour (see below!).
Sian Ka'an via Muyil: This section of the reserve is doable either on your own or as part of a tour. While you won't really see any wildlife in this part of Sian Ka'an, you will get to see Mayan ruins and float down ancient river canals!
I chose to visit Punta Allen, and I cannot recommend the experience enough for anyone visiting Tulum. It was my first time seeing manatees and crocodiles out in the wild, and it blew my mind! I took a tour with Mexico Kan Tours, who I chose because of their commitment to responsible tourism and nature conservation (quick disclosure! I received a media discount on this tour).
DAY FOUR: Bike Around the Coba Ruins
Another great day trip from Tulum is to Coba, which is just 45 minutes to an hour outside of town, depending on where you're staying. I highly recommend taking the time to visit these lesser-known ruins and the surrounding cenotes if you're spending a week in Tulum.
Coba Ruins
Coba is an ancient Mayan city that is known as the intersection of the largest network of raised pathways (sacbe in Mayan) in the ancient Mayan world. Here, you can visit a huge connected archeological area dotted with structures, engraved stones, and pyramids, the most well-known of which is the Nohoch Mul Pyramid. In order to see all of the sites here, you can rent bikes or have a local Mayan guide take you around on a bicycle carriage. Being able to bike through the jungle from pyramid to pyramid is a unique highlight of visiting these particular ruins!
Cenotes Near Coba
After visiting the Coba archaeological site, you have to stop at at least one cenote here before heading back to Tulum. There are three well-known cenotes located in close proximity to one another, and you can buy an entrance pass for all three, or just one, depending on how much time you have to spare. The one I visited, which is pictured above, is Choo-Ha!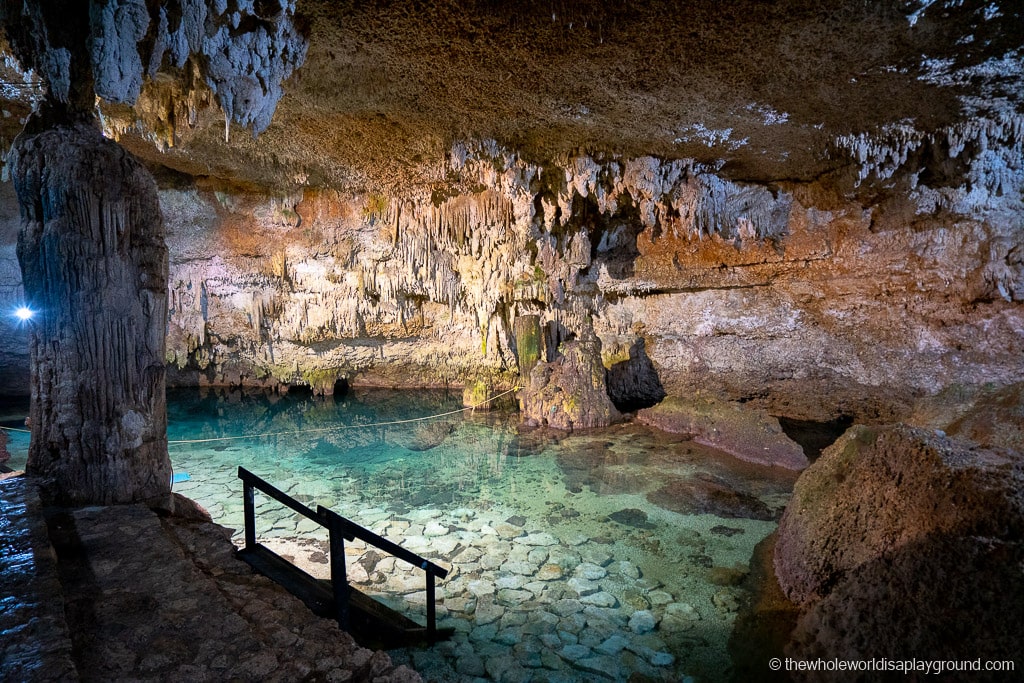 Choo-Ha
Tamcach-Ha
Multum-Ha
DAY FIVE: Visit The Famous Chichen-Itza Archeological Site
No trip to this part of Mexico would be complete without a visit to Chichen-Itza. If you haven't been, be sure to dedicate some time for a day trip to see one of the Seven New Wonders of the World, just two hours from Tulum!
Chichen-Itza
Driving to the archeological site is easy and there is a parking lot at the entrance. Once here, you'll notice that if you'd like a private guide to show you around, you will have two opportunities to obtain one – the first will be before the entrance to the parking lot, and the second will be once you've parked. The guides you see first, before entering the parking lot, are a local Mayan cooperative that essentially get first access to visitors. The second group, I've been told, are government-employed tour guides. We spoke to and decided to go with a Mayan guide from the first group, and he got in our car with us and rode to the parking lot to enter the site with us, which I thought was odd at first but ended up being standard procedure. Our tour was great! If you decide to take a guided tour too, it'll last you between 60 – 90 minutes and can be offered in English or Spanish, but English will cost a bit more.
Of course, you can walk around the ruins on your own, but in my opinion, if there's anywhere to let a local Mayan guide show you around and teach you a little bit more than what you'll observe on the surface, it's here!
If you care about visiting this site when there are less crowds, know that the early bird gets the worm – showing up right around opening time will provide you with the best chance of beating tour busses and having more of the grounds to yourself.
Cenotes Near Chichen-Itza
Like Coba, there are some pretty epic cenotes near Chichen-Itza. Try to visit at least one!
Ik Kil
Suytun
Lorenzo Oxman
DAY SIX: Take It All In on Tulum's Beach Before Leaving
On your last day in Tulum, take it easy and spend some time back on the beach to soak up all the beautiful views, warm water, and tropical breeze you're bound to miss once you leave. On day seven, if you haven't visited yet, now is the perfect time to check out the Tulum ruins which overlook the ocean. Towards the end of the day, get a good view of the sunset over the jungle and toast to your unforgettable, adventure-filled week in Tulum!
Tulum Ruins
While Coba and Chichen-Itza are epic, incredible sites in their own right, the Tulum Ruins are also worth a visit. In ancient times, Tulum was a trading hub, explaining the significance of the old structures found here. What makes the Tulum ruins so significant is that these structures are located on high cliffs overlooking the water, making for a visually stunning sight that other ruins can't offer. Be sure to bring your swimsuit, because during your visit you can take a staircase down to the sand and swim at the beach directly below the ruins!
Sunset Viewing
To wrap up your week in Tulum, end your trip with a sunset view of the magnificent jungle and coastal surrounds.
While a bit pricey, making a reservation for the AZULIK Sunset Experience is said to offer great views from a cool, boho "nest-like" terrace. Here, you can get dressed up and enjoy a cocktail on the terrace while mingling with others just before the sun sets on the jungle behind you. If you prefer to sit and enjoy a meal, Azulik's Kin Toh and Tseen Ja restaurants will require a reservation but will also offer similar views.
Mateo's is another well-known, albeit much more casual, Mexican spot for a rooftop drink overlooking the jungle at sunset.
Or, if you just want to admire the ocean and be as close as possible, sunset drinks at Mezzanine are truly where it's at.
Other Things to Do If You Have More Time
Visit Kaan Luum: If you have a drone, paying a visit to Kaan Luum Lagoon is a worthwhile half-day trip. Here, you can get an amazing aerial view of a giant, circular cenote nestled within a large, shallow lagoon. On a clear day with no rain, the color contrast between the lagoon and the cenote is super impressive!
Explore More Cenotes: Of course, any extra time in Tulum could easily be filled with more cenotes. If you can, visit more of these natural freshwater swimming holes in the area. Each one offers its own unique experience and ambiance!
Snorkel in Akumal: Akumal is a popular day trip for snorkeling. Here, next to the coral reef, you have great odds of being able to swim with sea turtles and other marine life.
Day Trip to Valladolid: Next to Quintana Roo, the state of Yucatán is home to a slew of charming, colorful, colonial towns, with Valladolid being one of the closest. While many skip over Valladolid to head straight to Chichen-Itza, this city is well worth a stop in its own right.
Spend the Weekend in Merida: A bit further than Valladolid but with similar charm, Merida is a beautiful, vibrant colonial city with a colorful historic center. This city is known for its salsa dancing, lively nightlife, and cultural displays in the form of parades, dancing, museums, and street performances.
Get Lost in Izamal: Located not far from Merida, Izamal is one of Mexico's Pueblos Magicos, or "magical towns." This magic town is painted bright yellow and is a visual feast that's well worth the longer drive!
Take the Ferry to Cozumel: A ferry ride away from Playa del Carmen, Cozumel is an island revered for its beautiful, lazy beaches and world-class diving. Spend the day, or stay overnight in Cozumel to enjoy the island in the evening and early morning, when cruise shippers are gone and the small town center is yours to enjoy alongside the locals.
Source : https://racheloffduty.com/blog/ultimate-one-week-guide-tulum-mexico.